We create beautiful spaces that people really want to call home.
Located in North East Scotland we are always on the lookout for land for residential development opportunities. Whether it is a single plot or larger area suitable for a residential scheme we would love to hear from you.
For many of our land owners, it is not a matter of just offloading land and making a commercial gain. They want to know that they are handing the reins over to a company that will develop the land beautifully and responsibly.
We are renowned for our strong partner relationships and our quality workmanship so whether you are clued up or clueless we can help you transform your land into something you can be proud of.
Development Sites Wanted
If you own, control or are even just aware of land or property with development potential - we want to hear from you!
With a number of bespoke homes, and residential developments under our belt (link to case studies) a simple phone call, and initial site visit will enable us to qualify the suitability of site for development.
We warmly welcome conversations about any land ownership opportunities but are particularly interested in the following:
Green and brownfield sites
Both rural and urban locations Aberdeenshire, Angus & Perthshire are our key areas but we will consider opportunities outwith
Single plots, small residential clusters or large scale property schemes.
Land with planning permission or without
Agricultural, industrial or commercial land
Land with existing building structures in place
Abandoned or unloved properties with renovation potential
Joint venture opportunities
We are always discreet with our discussions, as we understand that these conversations can be sensitive. Confidentiality is guaranteed.
What is the typical process for selling land for development with Fotheringham?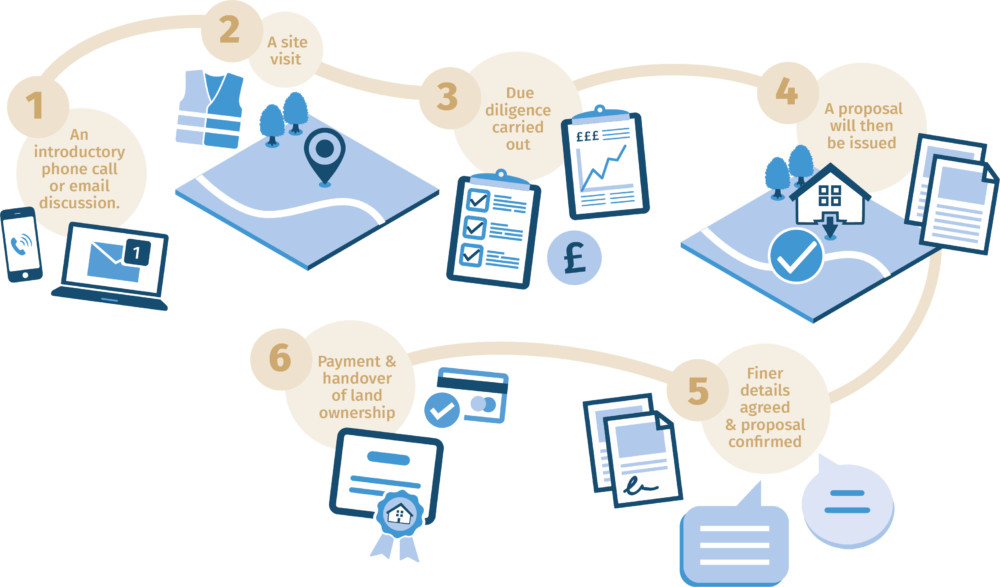 Step 1
An introductory phone call or email discussion.
Speaking with Michael, there will be an initial discussion around your proposed land opportunity. WIth a follow up site visit arranged if suitable.
Step 2
A site visit
Michael will visit the potential development site with you and investigate its suitability
Step 3
Due diligence carried out
If the land ticks our checklist of suitability, our team will then thoroughly research the area creating a strategy & financial assessment for the development site.
Step 4
A proposal will then be issued
If the land is then deemed suitable for development a proposal will then be created. Each land opportunity is different so will be handled on an individual basis with bespoke arrangements drawn up by solicitors. As an idea though these tend to be based around three types of arrangements:
Purchase without planning permission
Conditional purchase – where land would be purchased only if pre-conditions are met, such as planning permission & site investigations
Option to purchase – similar to conditional purchase, but purchase is still optional after pre-conditions are met. This is more likely in a long term development strategy
Step 5
Finer details agreed & proposal confirmed
It is important for us that we find a win:win for both parties. With open communication channels we can discuss any areas that require clarification or adjustment.
Step 6
Payment & handover of land ownership
Depending on the agreement, payment will then be made for the land with ownership rights exchanged. Site development can then commence allowing us to create another beautiful property that someone can call home.
It is only normal that we'll both have lots of queries about the purchasing and selling of your land. An initial conversation will allow us to address all of these without pressure for either party to proceed.
It is only normal that we'll both have lots of queries about the purchasing and selling of your land. An initial conversation will allow us to address all of these without pressure for either party to proceed.
Who Will You Deal With?
Your main point of contact will be Michael Fotheringham, Director of Fotheringham Homes, however you will also have the support of the rest of the team who you can read about here.
It is important for us that communication is kept open throughout the development process from transfer of land ownership to the aftercare the new residents receive; being a small, local family business this far simpler than a large developer.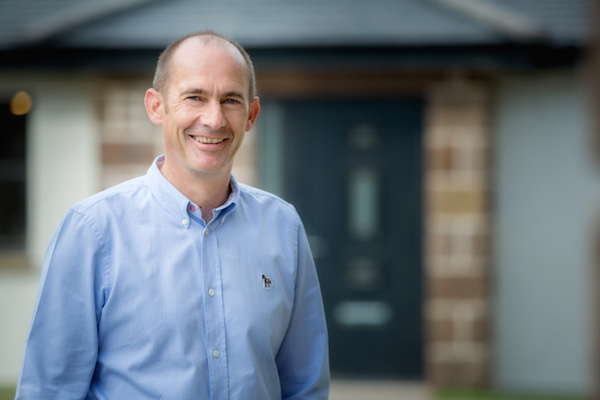 Michael Fotheringham – Director