Buying a new house can be an emotional rollercoaster and is definitely up there with one of the most stressful life events you can experience. From breaks in the property chain at the last minute to having to bid thousands over the asking price just to secure your property – it can make for an extremely fraught time.
That is why many people opt for a new build property which can remove some of the stresses associated with bidding wars and sales chains, as well as the obvious fact that you are getting a brand spanking new property to put your own stamp on.
Buying from a developer can also cut down the amount of time you spend rushing around to view prospective properties and lets you have a significant input right from the start as to what exactly the finished product will look like in terms of decor and interiors.
However, if you're a novice when it comes to the world of new builds having a set list of questions prepared can help make your buying journey as smooth as possible and ensure that everybody is on the same page.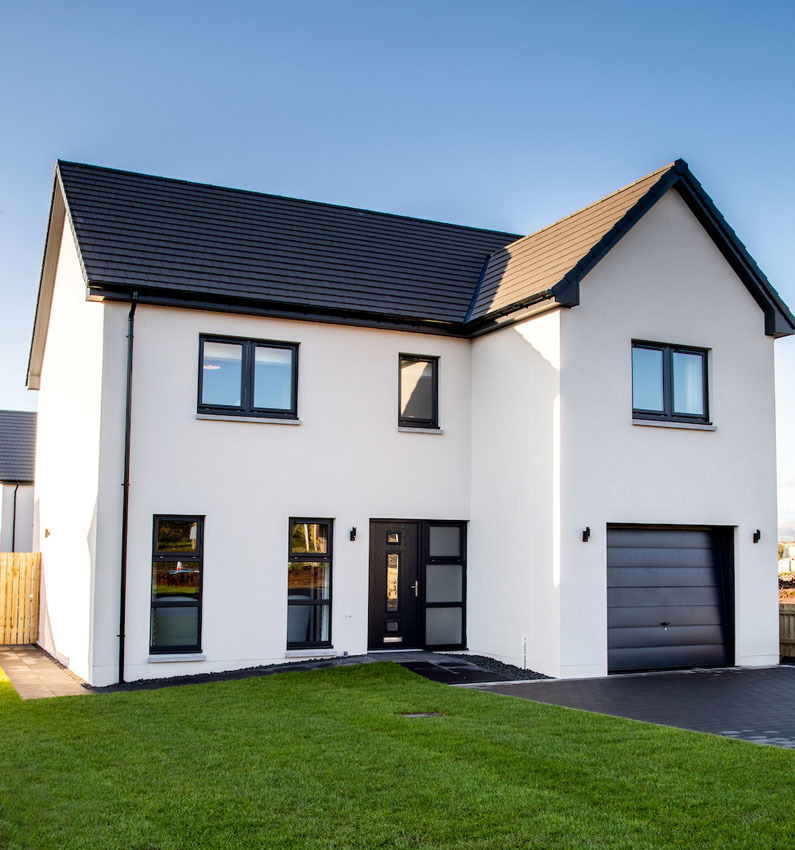 What are the ten most important questions you need to ask?
1 – What else has the developer built?
When you are looking at any new housing development, it is a good idea to find out what other developments your house builder has completed. Quite often they will be of a similar style and within travelling distance so you can go and have a look at them.
Visiting previous developments will give you an idea of the quality of work they deliver, their style of build and finish, and what you can expect the finished community to look like once it's at full occupancy.
2 – How many other properties have been sold? Who has bought them?
As you would if you were looking at an existing property, it is a good idea to get a feel for the development and who will be living there with you. Is it likely to be families, or young professionals, or have property investors bought some of the development, meaning that the houses will be rented out.
There should be a site development plan available which will show, in detail, all aspects of the development, from pathways to street lighting. Be sure to fully review the plan to get a sense of the scale of the development before you buy.
Being able to visualise what your local community will look like can be really helpful in knowing whether this is the right home for you and your family.
3– What do I get with my new build home?
If you are looking to buy off plan, it can be hard to envisage exactly what your new build home is going to look like. It's a good idea to ask the developer to give you a list of everything the property includes. Will the garden be landscaped? Are kitchen appliances included? Having this list up front will help you when it comes to the exciting part of shopping for your new home, as well as helping to avoid any misunderstandings later on down the line.
It's also important to understand what is not included in your purchase so you can budget for any extra costs as opposed to having to shell out for them unexpectedly just as you move in.
4– Can I purchase my own appliances or materials?
Were you dreaming of a grey marble countertop in your kitchen but the developer doesn't have one on offer? Or did you want a certain type of herringbone pattern flooring? Knowing exactly what materials are on offer can help sway your decision when it comes to buying your new home. If there's something specific you really want ask if you can purchase your own materials and have the builder install them. As they say, if you don't ask you'll never know.
5 – How energy efficient is the home?
New builds are generally more energy efficient than older homes but it's always good to check energy efficiency ratings to confirm this.
With better insulating materials and sustainable building products coupled with tighter modular construction, a new build means you are pretty much guaranteed a home with lower energy bills that will result in immediate cost savings.
6 – How much storage is there?
Having a place for everything in your new home is very important, so knowing how much space you will have is vital. Always double check with your developer that you know how much storage you are getting and be sure to take a look at the floorplan to check you're happy with the amount available.
If you think you're going to struggle with the storage space available, flag this up as early as possible as your developer can suggest clever storage solutions you can adapt to suit your needs.
7 – What is included with the new home warranty?
The new home warranty that comes with a new build is designed to give you peace of mind that should there be any problems with your home they will be fixed immediately.
These warranties typically last for 10 years, with the first year covering work the builder has done, known as the 'defects' insurance period. Years three to ten are the structural insurance period. However, it is a good idea to ask your new build developer exactly what is and isn't covered, and how long it is covered for.
 8 – Is landscaping included?
Depending on the size of garden, landscaping, including putting down lawn and planting trees or hedges can all add up. Is this a cost covered in your purchase price or will you need to pay a gardener to do this once you move in?
Some house builders will include this as standard, while some will expect you to take responsibility for landscaping your open property within a certain timeframe.
Either way, you need to understand what your garden will look like when you get handed the keys and what you might need to do to turn it into the green space you are looking for.
9 – What help is available for purchasing our new build home?
Buying a new home is one of the largest purchases you'll make in your life so you want to get the best deal you can. From low deposits to help to buy schemes it's always good to check what incentives are in place to make your dream home a reality.
Many developers also offer part exchange schemes should you have an existing property to sell and again this can take away the stresses associated with selling on the open market.
House builders are also really well placed to refer you to an independent mortgage advisor, meaning you're getting some impartial advice on where and which mortgage to take out.
10 – When will the property be ready?
This is the most exciting part of your buying journey so it's important to ask your developer when they believe the property will be ready so you can start planning your move. By having an estimated date to work towards, you can plan your other jobs – such as instructing a conveyancing solicitor and packing your belongings.
Sometimes these dates move, and it is also important to know what to expect in this instance and how your developer will communicate changing deadlines and when. By having this conversation before you commit to buying your property you can both be clear where you stand.
In summary
Buying a new build can be a lot less stressful than buying an existing property but it is important to ask the right questions at the right time. A good developer will go above and beyond to make sure they are providing you with the correct information and should be happy to be asked as many questions as possible.
At Fotheringham Homes it is important to us that your buying journey is as smooth as it can be. We want to fulfill all of your expectations so you can have the home of your dreams. We believe that there is no such thing as too many questions and are happy to spend as much time as possible going through the finer details of your prospective home.
Our aim is to build the best relationship we can as you embark on this exciting new journey with us.